White Dove Thrift Donations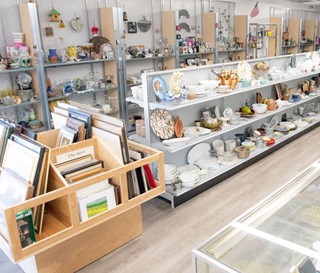 Give.
Care.

Smile.

You'll feel great knowing proceeds from the sale of your donated items help provide compassionate care to our patients and families.  All donations are tax deductible.
Donations
Have questions about what to donate? Call (602) 274-3683 (DOVE). Want to schedule a pickup of large items? Click "Schedule a Pickup" button below and we will contact you to schedule a pick-up. We accept items at all locations Monday-Saturday, 9 am to 5 pm. Staff can help unload and provide a receipt for tax purposes. Drivers provide a donation receipt.
We gladly accept gently used:
Furniture – sofas, chairs, dressers, hutches, vanities, tables, lamps, bookcases, small area rugs, mirrors, chests, smaller desks, select office furniture, vintage and antique pieces, sleeper sofas on occasion if in great condition and with a clean mattress
Appliances – working electric washers, dryers, refrigerators, freezers, microwaves, blenders, mixers, food processors, toasters, toaster ovens, coffee makers
Clothing – all types and accessories
Housewares – dishes, silverware, flatware, glassware, pots and pans, china, bakeware, mugs, cooking utensils, books, DVDs, CDs, record albums
Knickknacks – collectibles and figurines, vases, baskets, crafting and scrapbooking material, picture frames
Art – paintings, photography, sculptures
Jewelry – earrings, necklaces, rings, bracelets, watches, brooches, cuff links, sunglasses, eyeglasses
Electronics – stereo equipment, computer equipment, video equipment, DVD players, CD players, boom boxes, VCRs, lamps, clocks, tablets, laptops, smart phones, MP3 players, game systems—all in good, working condition
Vehicles – cars, trucks, boats, RVs
Medical equipment – working power wheelchairs, lift chairs, hoyer lifts, power scooters, fully electric hospital beds, semi-electric hospital beds, transfer wheelchairs, standard wheelchairs, shower benches, walkers
Sports equipment – football, baseball, golf, tennis, basketball, hockey, exercise equipment, sports paraphernalia


Thanks, but we do not accept:
Children's toys, strollers, cribs, car seats
Mattresses, box springs
Dishwashers, gas appliances
Large entertainment centers/armoires (may accept if small and easily moved)
Organs
Platform beds, bunk beds, water beds
Non-medical electric beds
Large office furniture (L-shaped desks, over-sized credenzas, conference tables)
Durable medical equipment (oxygen, SVN nebulizers, suction machines, vents, hearing aids, needles)
Prosthesis
Tube TVs, non-working electronics, fax machines, printers
Large, heavy glass dining tables seating 8 or more
Perishable items, medications, make-up, toiletries
Building materials, toilets, sinks, doors, blinds, showers, cabinets, windows, paint, chemicals, ceiling fans, hard wired light fixtures
Guns, ammunition
Send us your questions?



We'll get right back to you.