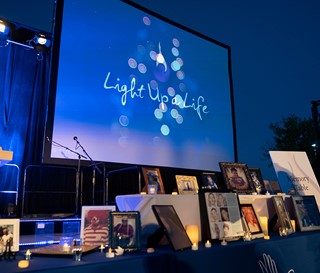 Remembering

 those we love
Out of an abundance of caution and respect for the safety of the families who attend, Hospice of the Valley will hold a virtual event this year. Although we cannot gather in person, we can still honor those we hold close to our hearts. We can still feel gratitude for the beautiful ways they enriched our lives.
We hope you will join us for this special presentation on AZTV-Channel 7.
From your own home, view a musical photo tribute to loved ones who are no longer with us, but continue to brighten our lives.
After the live broadcast on November 22nd, the televised program will be available for viewing by going to aztv.com/LightUpaLife.        
Questions? Please contact us at 602-530-6992 or LUAL@hov.org.  
Photo submission criteria:
Community members are welcome to submit photos of their deceased loved ones for the photo tribute. Photo submissions open October 5, 2020. Final deadline is 5:00pm, November 2, 2020. Please submit only one photo (do not send multiple photos of the same person or collages). Photos should not include graphics or text.
Upload Your Photo
Digital photo submissions must be high-resolution (at least 300 dpi); high-quality smart phone photos are okay.
Mail Your Photo
Photos may be mailed with the submission form to:
Hospice of the Valley
Light Up a Life
1510 E. Flower St., Phoenix, AZ 85014.
Please include a self-addressed, stamped envelope if you would like the photo returned.  Photocopies, newsprint or prints made from desktop printers are not accepted (photo lab prints only).  Minimum size is 4" wide and 3" high.
Use Previous Submission
If you would like a previously submitted photo to be included in this year's tribute, please call 602-530-6992 or email LUAL@hov.org to request its inclusion.
Sponsorships
Presenting sponsorship opportunity offered at $15,000.  Underwriting opportunities available beginning at $1,000. For information about sponsorship opportunities contact us at (602) 530-6992 or lual@hov.org.
Donations
Gifts are not required, but you may make a donation in memory of your loved one.