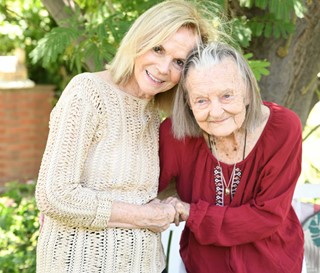 Understanding

Hospice

Here are some frequently asked questions about hospice care. If you'd like more information, just call (602) 530-6900 or contact us any time. 
When should a decision about starting hospice be made, and who should make it?
It is appropriate to discuss all care options, including hospice, at any time during a life-limiting illness. The decision belongs to the patient. Hospice of the Valley staff members are available to help with the discussion.
When is it time for hospice?
Hospice care is for people with a life-limiting illness who want comfort care rather than curative treatment. Typically, a person qualifies for hospice when life expectancy is six months or less, but that timeframe is flexible. In addition to patients who are diagnosed with a disease in a late stage who choose comfort over aggressive treatment, many patients consider hospice care when one or more of these circumstances apply: loss of function or physical decline; increase in hospitalizations; inability to care for self in most activities of daily living; multiple diseases or conditions; increase in emergency room visits, and continuing weight loss. Each disease has its own criteria indicating hospice eligibility. At Hospice of the Valley, we will send a nurse to meet with you to discuss hospice and review eligibility with you.
Anyone, including patients, family and friends can refer a patient for a hospice evaluation. We are happy to discuss our programs and help to decide whether hospice care is appropriate. Contact us for help.
Who do we provide services to?
We provide services to those who:
Have a life-limiting illness,
Agree that hospice care is appropriate.
Reside in or near Maricopa County or Pinal County (including winter visitors).
Who pays for hospice care?
Hospice care is an established part of the healthcare system. Services are covered by Medicare, including for those with Medicare Advantage plans, most insurance plans, and some Medicaid plans (including AHCCCS, the Arizona Health Care Cost Containment System). Hospice of the Valley, a not-for-profit agency, provides the same high quality of care to everyone regardless of insurance or financial means.
Those who elect to use the Medicare Hospice Benefit for their serious illness choose "the hospice plan of care," which means they are no longer seeking aggressive treatments to cure their illness. However, Hospice of the Valley will pay for many valuable treatments that provide comfort and care, including radiation therapy, limited chemotherapy, intravenous fluids and antibiotics, intravenous or stomach tube feedings, and specialized pain management technologies.
If the patient has chosen the Medicare Hospice Benefit, and then has an illness that is not related to the hospice diagnosis, traditional Medicare will pay for that treatment. For example, if a patient with lung cancer falls and breaks a hip, he/she will get surgery for the fractured hip through traditional Medicare.
What does the Hospice Medicare Benefit cover?
The Hospice Medicare Benefit covers medical and nursing care, social services and counseling, chaplain services, certified nursing assistants for personal care in the home, medications delivered to the home, and medical equipment and supplies for care related to the hospice diagnosis. Additionally, acute symptom management related to the principle diagnosis in specialized inpatient hospice homes is covered. This care is meant to be provided for a short time to develop a treatment plan to manage the acute symptoms. Then the patient is transitioned back to their community hospice team.
If the patient is taking medications for an unrelated diagnosis (for example, if the patient is on hospice for lung disease but also has an unrelated thyroid condition), the patient and/or their usual insurance will pay for those medications.
The Hospice Medicare Benefit does not cover room and board in a group home, assisted living facility, or nursing home under most circumstances.
For more information, view the U.S. Government Web site: www.medicare.gov or call the Medicare Customer Representative: 1 (800) 633-4227.
Can patients take themselves off of hospice?
Certainly. A patient may elect to "take themselves off hospice" and resume regular medical care at any time. They must inform the hospice agency of their intent to do so. Signing off hospice does not impact the ability to elect the hospice benefit in the future.
Does hospice do anything to make death come sooner?
Hospice of the Valley does nothing to speed up or slow down the dying process. Just as doctors and midwives lend support and expertise during the time of childbirth, so hospice provides its presence and specialized knowledge during the natural dying process. Hospice staff are expert at managing symptoms, physical, psychosocial, and spiritual and work to ensure patients' comfort during the dying process.
How does hospice manage symptoms?
Hospice of the Valley nurses and doctors work collaboratively to achieve effective symptom management. Whether it is pain, shortness of breath, or any other symptom, our goal is singular-working to make sure patients are comfortable and able to focus on what is important to them. Our staff are experts on the medications and devices for symptom relief. Nurses and physicians are joined by other members of the interdisciplinary team including nutritionists, respiratory therapists, massage therapists, social workers, chaplains, and others in creating a plan of care that is individualized for each patient. Counselors, including chaplains, are available to assist family members as well as patients. With a combination of medications, counseling and therapies, most patients can attain an acceptable level of comfort.
Can I keep my doctor when I am on hospice care?
Yes, if you would like that. Hospice of the Valley functions as an extension of, not in place of, the patient's attending physician. The agency also has medical directors available to help patients who have no physician or need physician home visits.
Does hospice provide support to the family after the patient dies?
Hospice of the Valley offers continuing contact and support for family and friends for at least a year following the death of a loved one. Grief support groups, including those specific for children, are offered free of charge to anyone in the community who has experienced the death of a family member, a friend or a loved one.
Do I need to let my doctor know I am interested in hospice?
No. You may call to request a hospice evaluation yourself. After one of our nurses meets with you to discuss and evaluate for hospice, you, or a member of our staff, can reach out to your physician and let them know the plan.
How is Hospice of the Valley different from other hospices?
Our people set us apart. We have dedicated staff that have your comfort and meeting your needs as their top priorities. Their expertise is evident in our high numbers of certified staff, Hospice of the Valley is proud to have the most staff in the country within a single agency certified in hospice and palliative care. In addition, we offer clinical support 24/7, through our telephone triage, ten inpatient units, and broad network of clinical staff that cover the Valley. Lastly, we pride ourselves on creating a treatment plan that is individually tailored to improve quality of life for each patient.
Is there any special equipment to buy or changes I have to make in my home before hospice care begins?
Necessary equipment such as wheelchairs, oxygen and hospital beds are covered by the Medicare hospice benefit and insurance plans. Hospice of the Valley staff will assess your needs, recommend any necessary equipment and make arrangements for it to be delivered to you.
Is Hospice of the Valley a place?
Hospice is a philosophy of care that focuses on quality of life versus quantity of life. Hope is maintained by aggressively managing symptoms and providing social work and chaplain support to ensure life is lived to the fullest, regardless of time. The focus is on maintaining the dignity and comfort of the patient and supporting the family. Most Hospice of the Valley patients are served in their own homes. Some are cared for in group homes, assisted living or skilled nursing facilities. Hospice inpatient units also are available for acute symptom and medical management.
How does a patient enroll in hospice?
A phone call to Hospice of the Valley—(602) 530-6900—is all that is needed to begin the admission process. Or complete our online form.