Relieving pain at
home.
Palliative care is for patients who are not on hospice, but who need care in their home to manage pain or symptoms. We work with your doctors to create a personalized care plan and a nurse is available 24/7/365 at (602) 530-6900 to help with urgent issues.
Our care teams help relieve suffering and pain, to achieve the best quality of life possible. We also offer specialized care for those with breathing difficulties. Our innovative Pulmonary Resource Program creates an individualized treatment plan to meet the medical and emotional needs of patients and their caregivers.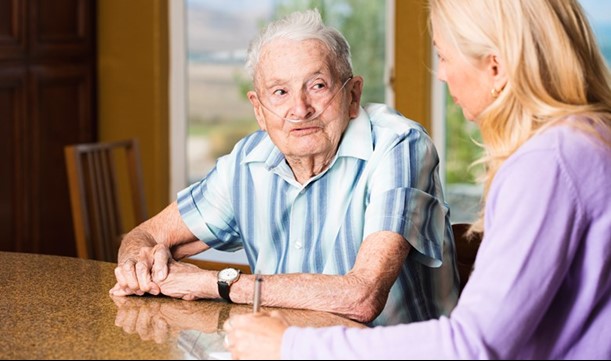 Our care teams help relieve suffering and pain, to achieve the best quality of life possible. 
Our palliative care programs
Geriatric Solutions
When getting to the doctor's office is a problem due to age, illness or mobility, we bring the doctor to you. Geriatric Solutions is now part of Hospice of the Valley. Physicians and nurse practitioners make house calls so you can stay in the comfort of your own home. Call (602) 954-0444.
Arizona Palliative Home Care
Our care team works with many insurance plans that want to provide their sickest patients with home-based palliative care. This reduces costs and frequency of emergency room visits. Call (602) 212-3000.
Outreach Palliative Care
This program is for people with late-stage serious disease who may be getting aggressive treatment and want home-based education and care. Our social worker comes to your home to connect you with community resources. There is no charge for this service. Call for an appointment: (602) 212-3000.
Palliative Care for Dementia
Family caregivers often feel overwhelmed, anxious and isolated while they are caring for a person with dementia. They want to keep their loved one at home for as long as possible, but wonder how to make it all work. Support can be provided through the Palliative Care for Dementia program, which is funded through private payment from the patient/family and by grants. Call (602) 636-6363 or email DementiaCare@azphc.org.