Furry friends bring

smiles

.
You and your best friend can become part of our Pet Connections program. Join our menagerie of dogs, cats, rabbits and miniature horses!
A great therapy animal is friendly, confident, calm and likes visiting people. Dogs should be controllable on a leash, welcoming to strangers, non-aggressive with other dogs and have basic obedience skills. All pet teams must be evaluated and registered with a national pet therapy organization. We can assist you in navigating the registration process. Teams also are required to complete a comprehensive training program.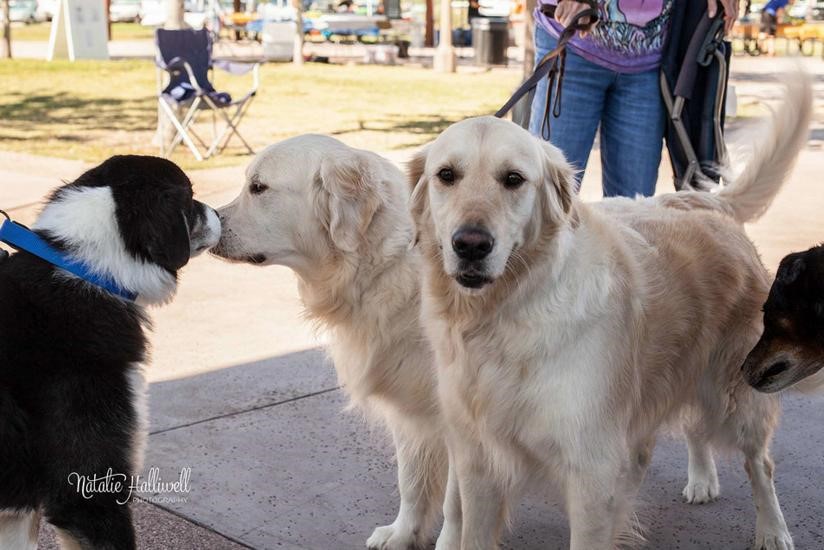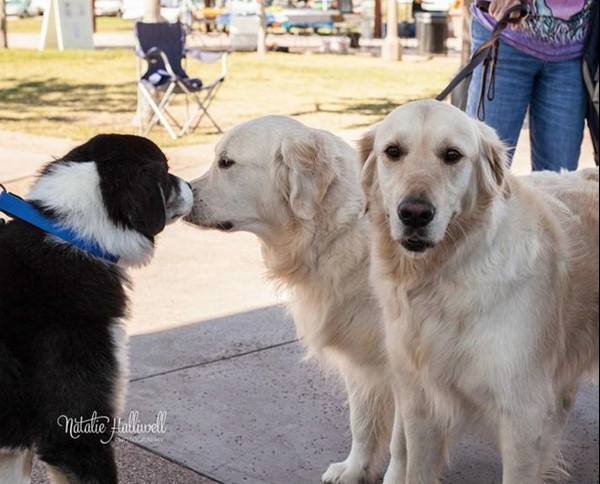 Pet therapy teams typically visit with patients from one to two hours per week in many different settings: skilled nursing and assisted living facilities, group homes, patients' private homes, and inpatient hospice homes.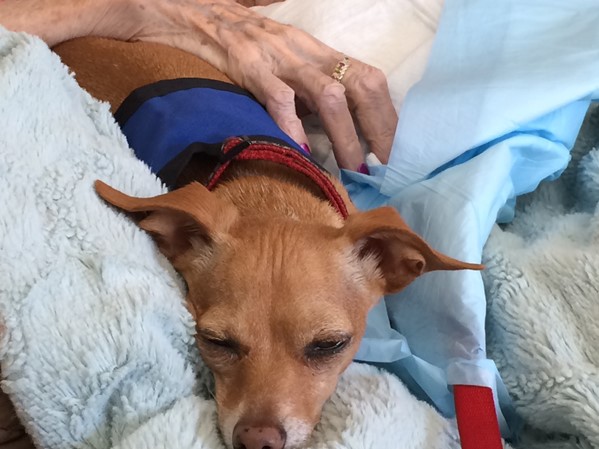 We have 120 Pet Connections Teams! To find out more, call (602) 636-6336.
Meet some of our therapists
Frango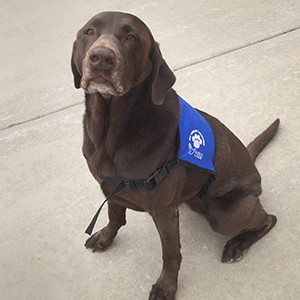 My Breed:
Chocolate Labrador

My Human Partner:
Ilyse Stern

I've been an HOV Volunteer since:
2015

My interests, hobbies and talents:
My mom and I are involved in showing off our skills in two venues involving agility. One is the American Kennel Club agility competition. Agility is an athletic event that requires conditioning, training and teamwork. Teams must negotiate an obstacle course while racing against the clock! I started 2.5 years ago and this year received a championship versatility award. I am now in all elite classes and working toward the highest level. Last summer we even traveled to Yellowstone and Utah for agility. Life doesn't get much better than that! I also got to try dock diving this summer which was tons of fun. Earlier this year my mom said I had to help raise a service dog puppy. I wasn't thrilled but she's really kind of cool. I hope she gets to stay forever, but mom says she is gonna go help someone special soon.

My work at HOV:
I used to spend hours trying to help my sick human grandparents smile and feel better. My mom recognized my special talent so she made it official and we became a Pet Connections team for Hospice of the Valley. We wanted to help others. We started out going to a few small group homes and then to see a great lady in her own home. Then we found a wonderful skilled/assisted nursing facility. We go every week to see our friends. Usually they are waiting for us… some even have little parties for me and I get special treats. I am a good girl and everyone there seems to like me a lot. I really love going and can't wait to run in to see all my favorite patients and staff!
Caesar and Rufus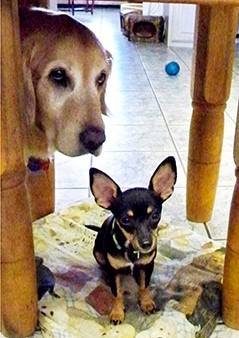 Our Breeds:
Golden Retriever and Chihuahua/Rat Terrier Mix
Our Human Partner:
Karen Davis
We've been an HOV Volunteer since:
2009 and 2013 respectively
Our interests, hobbies and talents:
Caesar: I like to eat everything, even though my Mom doesn't let me eat everything I want. I also like playing with my sister, snoozing in my dog beds,and short walks up the street.
Rufus: I may be little but I also love to eat! I prefer snuggling in the fur of my Golden brother and sister over dog beds any day. I like to run real fast in the yard and play. Short walks are the best, but since I don't like the cold, I prefer to walk only when it is warm out. I don't know how I got here to my home, but when I was a puppy I found myself in my Mom and Dad's garage. My Mom tried hard to find my people, but no one came for me. That was OK because I knew I had already found my forever home.
Our work at HOV:
Caesar: My first HOV patient was my favorite one ever. We visited her every week for a very long time. She kept treats just for me in her drawer and I knew exactly which drawer too. I love wearing my vest and going to the Palliative Care Unit or group homes.
Rufus: I started in 2013. I like all kinds of people. I can relax and sleep a lot at home, but when I am out I get so excited. I can calm down and get petted, which is lots of fun. I love wearing my vest since I know that means I am off to work.
Support Group
Pets are part of our families. Losing their constant companionship and unconditional love can be devastating. Hospice of the Valley hosts a Pet Loss Support Group for those grieving the loss of their beloved companion.