Furry friends bring

smiles

.
You and your best friend can become part of our Pet Connections program. Join our menagerie of dogs, cats, rabbits and miniature horses!
A great therapy animal is friendly, confident, calm and likes visiting people. Dogs should be controllable on a leash, welcoming to strangers, non-aggressive with other dogs and have basic obedience skills. All pet teams must be evaluated and registered with a national pet therapy organization. We can assist you in navigating the registration process. Teams also are required to complete a comprehensive training program.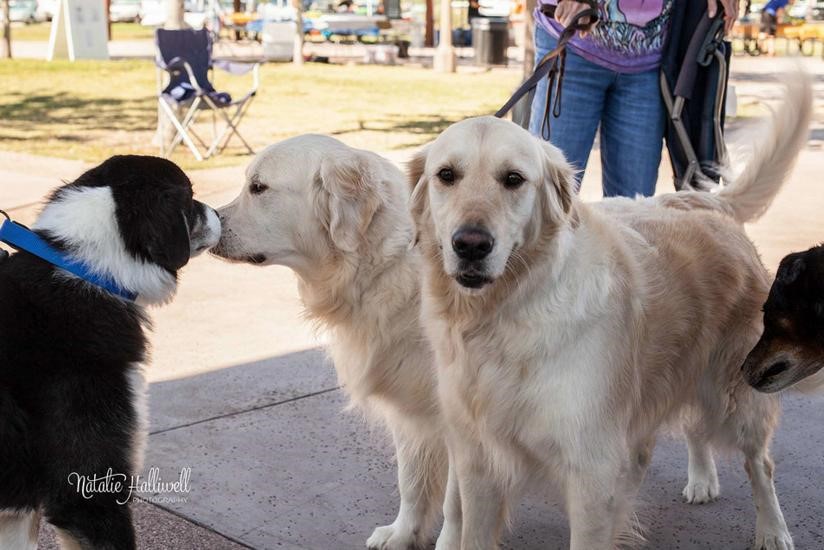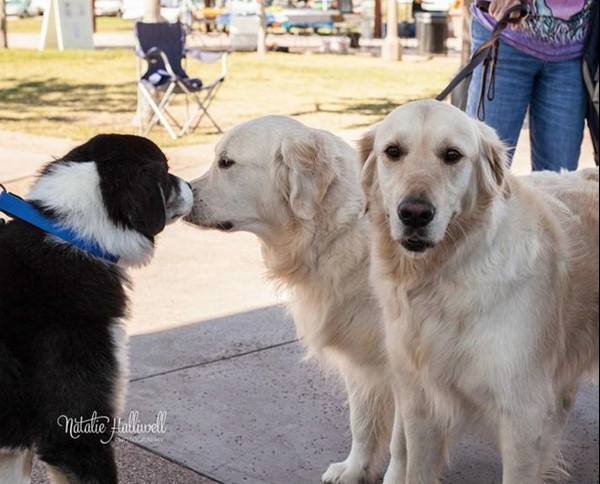 Pet therapy teams typically visit with patients from one to two hours per week in many different settings: skilled nursing and assisted living facilities, group homes, patients' private homes, and inpatient hospice homes.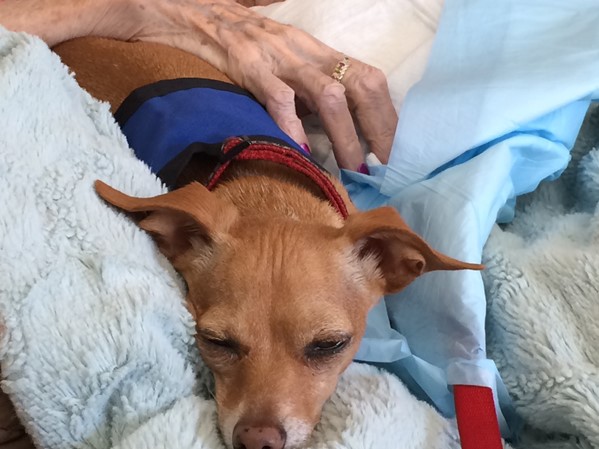 We have 120 Pet Connections Teams! To find out more, call (602) 636-6336.
Meet some of our therapists
Betty Boop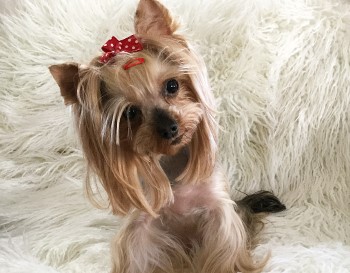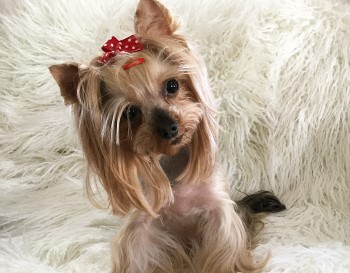 My Breed:
Yorkshire Terrier
My Human Partner:
Lynn Swartz
I've been an HOV Volunteer since:
2014
My interests, hobbies and talents:
I was born in England. When I was just a baby my human mommy and daddy went to England and brought me to the United States. It was difficult for me at first because I did not understand the language. Mommy quickly put me in school. I did so well that I soon became an official therapy dog. I have three brothers and three sisters at home, but I must say I have the best outfits in the family (and boy do I love to dress up, complete with matching bows, barrettes, collars and leashes, of course).
My work at HOV:
I really like working with the kiddos at the Ryan House and at Hospice of the Valley's New Song Center for Grieving Children. The children dress me up, comb my hair and take me for walks (with my mommy right alongside of course!). I am very good at helping the children feel better when they are not feeling well or are missing their human.
My favorite thing to do is lie on my back in bed and watch TV with the kiddos. I love when they rub my belly and give me treats. Sometimes I even fall asleep. Hee hee. I love to give kisses and I love to work at Hospice of the Valley!
Buddy
My Breed:
An international mix: German Shephard, Australian Shephard and Border Collie.
My Human Partner:
Pat Estok
I've been an HOV Volunteer since:
2012
My interests, hobbies and talents:
I was about 5 years old when—from all the people trying to corral me—I chose Pat to take me in from the street. She said I was someone's buddy and that's how my name was chosen. I was skinny and limping but a gentle soul who immediately made friends with all the neighbors and their pets. After a few weeks of winning everyone over, my training began as a therapy dog. I was so proud to become officially registered, but then Mom had to be trained—that took a few more months! Everywhere I visit, I enjoy seeing delight on people's faces. The patients miss their pets so much so I get lots of cuddles and hugs. My favorite time is in the morning when my humans are still in bed. I bring them a ball or my Kong and we play hide and seek, tug of war and other fun games. My other favorite thing is to play with my friends in the courtyard and chase the rabbits. Those guys are fast and sure give me a great workout!
My work at HOV:
When I first started my training, our instructor said, "Every dog needs a job." I'm happy that Mom chose Hospice of the Valley. When she gets out my "work" bag I tear through the house and then wait patiently for my seat belt to be put on. I know I'm going to visit HOV and other friends at my skilled nursing facility again. I always feel everyone's love flow through me as they give me hugs, rub my silky coat and massage my ears. We've been visiting the facility weekly for more than five years and everyone greets me by name. I feel so special! Even residents who have limited mobility/senses love to have me gently snuggle beside them in their lounge chair or bed. I'm so glad Mom took our instructor seriously and "got me a job," especially with HOV!
Support Group
Pets are part of our families. Losing their constant companionship and unconditional love can be devastating. Hospice of the Valley hosts a Pet Loss Support Group for those grieving the loss of their beloved companion.