Furry friends bring

smiles

.
You and your best friend can become part of our Pet Connections program. Join our menagerie of dogs, cats, rabbits and miniature horses!
A great therapy animal is friendly, confident, calm and likes visiting people. Dogs should be controllable on a leash, welcoming to strangers, non-aggressive with other dogs and have basic obedience skills. All pet teams must be evaluated and registered with a national pet therapy organization. We can assist you in navigating the registration process. Teams also are required to complete a comprehensive training program.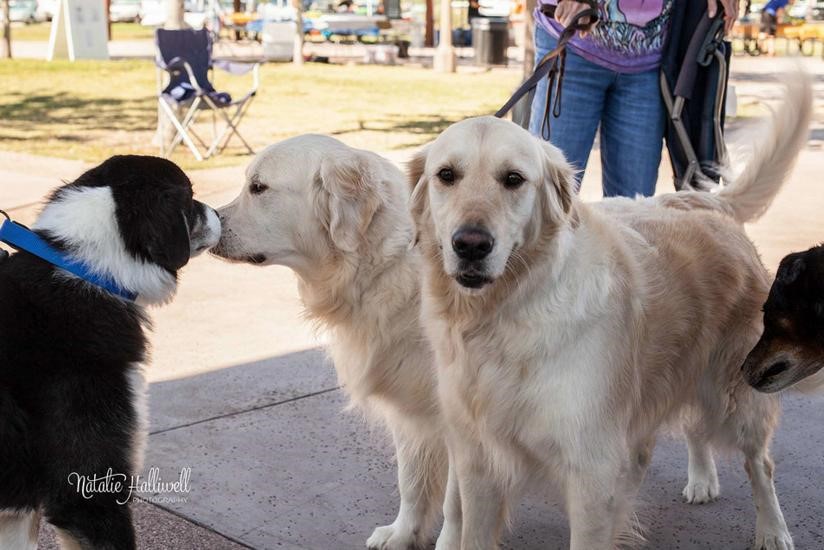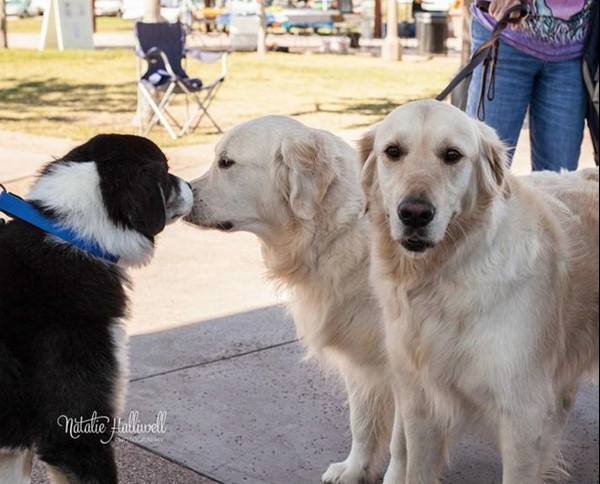 Pet therapy teams typically visit with patients from one to two hours per week in many different settings: skilled nursing and assisted living facilities, group homes, patients' private homes, and inpatient hospice homes.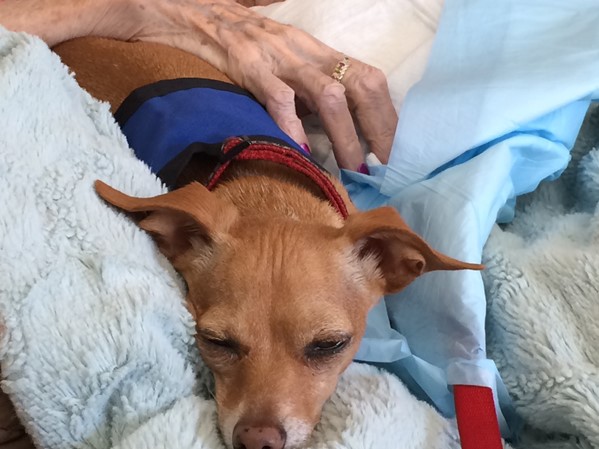 We have 120 Pet Connections Teams! To find out more, call (602) 636-6336.
Meet some of our therapists
I'Lea
Therapist Name:
I'Lea Low
My Breed:
I am a chow/golden retriever mix. I was rescued in August of 2007 from the local humane society when I was just two months old.
My Human Partner:
Aaron Low
I've been an HOV Volunteer since:
2012
My interests, hobbies and talents:
I have always been very laid back; I don't take life too seriously. The only time I actually move fast is to chase smaller animals as I am very inquisitive. However, I admittedly do get pretty bored when the critters stop running. I'm even more fascinated by larger animals such as cows and horses but then I get too nervous to get really close. I love my slow morning walks and the hours I get at the dog park every night. My greatest talent is my extreme laziness, to the point that one night a person at the dog park thought I wasn't actually alive! I'm very obedient with everything that is required for a registered Canine Good Citizen and Therapy Dog but other than that I'm pretty lackadaisical.
My work at HOV:
Hospice of the Valley is really the highlight of my life! It is time for just dad and me to go and help those in need. It is always such fun to see a whole room light up just because I walked into it. There have been some rough goodbyes but they are always replaced with a new hello. I was amazed to realize the change one pup could have and look forward to many more years of it.
Louie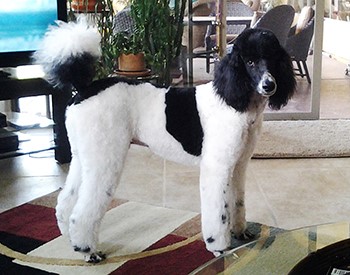 Therapist Name:
Louie "Houdini" Long
My Breed:
Standard Parti Poodle
My Human Partner:
Virginia Ray Long
I've been an HOV Volunteer since:
2016
My interests, hobbies and talents:
My human Mom gave me the nickname Houdini after my first month with her. I think it is because I broke out of my crate not once, but twice! She says I am a mischievous boy… don't know how she got that idea? I love to run and play and chase little animals. The fun is in the chase! I have my favorite toys that I play with at home and I hide them all around the house, so only I know where they are. My favorite thing is to be with my humans—we share lots of love.
My work at HOV:
Though I only started visiting in 2016, my siblings went out visiting with Mom as far back as 2013. Being a therapy dog is very important to me. It gives me special time with my Mom. I get to ride in the car to group homes, skilled nursing facilities, memory units or wherever she takes me. I visit people with such beautiful smiles. They pat my head and rub my back and make me feel special. Inside I know they are the special ones. It makes me happy to visit them. Sometimes, on the way home, my human Mom may even open the windows in the car so I can feel the fresh wind on my face. Mmmm! Pure joy!
Support Group
Pets are part of our families. Losing their constant companionship and unconditional love can be devastating. Hospice of the Valley hosts a Pet Loss Support Group for those grieving the loss of their beloved companion.