War hero embraces support to carry on as wife's caregiver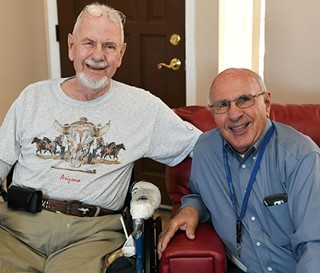 Hospice of the Valley chaplain Nick Martrain (right) is part of the agency's team that supports Charlie Wilson and cares for his wife, Mary Wilson.
The Arizona Republic
December 28, 2019
by Lin Sue Cooney

The day after Christmas, most of us will still be celebrating, but Charlie Wilson will be reflecting upon the hardest day of his life. Dec. 26 marks the 50th anniversary of the deadliest sea disaster of the Vietnam War. Wilson, 87, husband and caregiver of Hospice of the Valley patient Mary Wilson, was the captain of Merchant Marine vessel SS Badger State. The ship was bound for Vietnam in late 1969 when its cargo of bombs tragically detonated.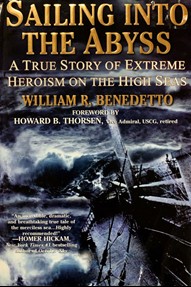 William R. Benedetto's 2005 book, "Sailing into the Abyss: A True Story of Extreme Heroism on the High Seas," explains what happened. "When two colossal storms converged on their vessel, the bombs began to come loose in their cargo holds… And then the unthinkable happened — an explosion rocked the ship, blasting a hole through its hull and forcing Wilson to sound the abandon ship signal. To add to the crew's danger, another bomb sank their fragile lifeboat. On their own amid the punishing waves, the men were defenseless when huge, normally harmless albatrosses inexplicably turned vicious and attacked them as they floated helplessly in the freezing waters of the North Pacific."



Only 14 of 40 people survived, including Wilson. "The only reason I fought to survive was to tell my story. And I did, in front of the Coast Guard," he says. Wilson was exonerated and praised for his heroic actions to save his crew — but he still feels responsible. "I was the captain; I was in charge of that ship. I lost 26 men," he says. "It tears my heart out."

But Wilson has found encouragement and empathy in a new friend: Hospice of the Valley chaplain Nick Martrain, who is part of the team that supports him and cares for Mary in their Gilbert home. Martrain brings communion to Mary, 84, a devout Catholic who has lived with Alzheimer's disease for several years. "I pray with her. She moves her lips to the Lord's Prayer," he says. Then he sits down with Wilson and they bond over history, sports and the thing that is always heavy on his heart.
"Nick and I can talk about old times and we know what we're talking about," says Wilson, who also served in the Navy during the Korean War. "He's my type of person." Martrain is happy to be a listening ear. They genuinely enjoy each other's company and even finish each other's sentences.
The Wilsons also get support from a compassionate Hospice of the Valley care team that admires Wilson's devotion to his wife of 47 years. Despite being in a wheelchair, he still does the cooking, laundry and cleaning.
And with the help of a nursing assistant, who visits Mary three times a week, Wilson's body and mind can take a break and recharge.
"His dedication to his wife, it's unbelievable!" Martrain exclaims. "Even when he can't walk, he's taking care of her. It's true love. I'm inspired when I come here."
It's the same kind of integrity and bravery Wilson displayed trying to save his crew on a doomed voyage 50 years ago. With his wife, it comes down to the vows he took. "I made a promise to have and to hold," he says, in sickness and in health. He's determined to do everything he can to celebrate another golden anniversary: His wedding.