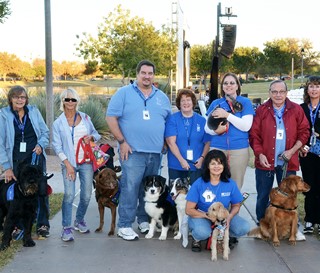 Our Pet Connections Teams
Honey Badger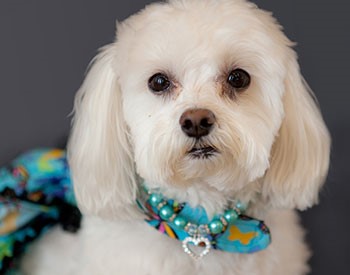 Breed:
Havanese
My Human Partner:
Debbie Kimmick
I've been an HOV Volunteer since:
2014
My interests, hobbies & talents:
My interest is getting dressed up. I have to use all four paws and my tail to count how many dresses I own. I even have several pearl and diamond necklaces. I love going to the mall with my mom and meeting everyone there (I know there are treats behind some counters). I love visiting the neighborhood dogs and remind them, I am the boss. I have 4 wild cats that live in my backyard that I like to play with. I am always with my mom and when she ignores me as she works, I am always next to her desk waiting for her to reach down to pet me.
My work at HOV:
I love visiting the HOV inpatient unit in Surprise. Every time I go I get to meet new people. I love snuggling in bed with HOV clients and letting them pet me. Kids will sit on the floor in front of the windows and play with me. Everyone must love me because they smile when I walk in. I also visit HOV clients and their families in their homes, and make them happy. I'm even one of the 2021 calendar girls with 11 of my other HOV pet friends.
Otis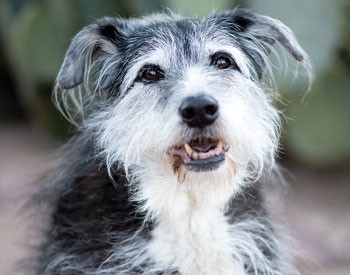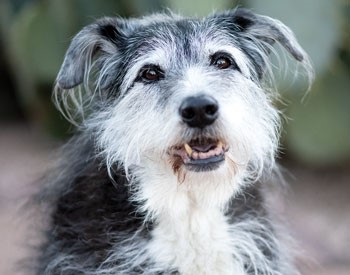 Breed:
Irish Wolfhound mix
My Human Partner:
Drew Eastmead
I've been an HOV Volunteer since:
2019
My interests, hobbies & talents:
I will readily plop on any persons' feet and visit anyone who will pet me. When I'm not working, I enjoy exploring yards, playing in dirt, eating turkey jerky (my favorite!), playing with my sisters and introducing myself to new dogs by vigorously wagging my tail.
My work at HOV:
Since I started with Hospice of the Valley, I have visited a number of patients and facilities throughout the valley. I bring smiles, comfort and relaxation to everyone I visit — including staff!
Spencer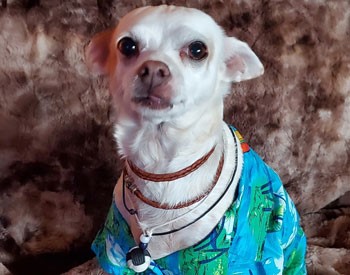 Breed:
Chihuahua
My Human Partner:
Lisa Sayler
I've been an HOV Volunteer since:
2016
My interests, hobbies & talents:
I am considered a rock star within my family dynamics. I was the first to be a therapy dog and serve my loyal subjects, I mean community. I am not a morning dog, 9 a.m. can be a stretch on some days …not to mention my family that starts moving around at 6 a.m. (Why is that even necessary?) I do love to sit out in the morning sunshine and survey my empire and review that day's plans with my three siblings. They always seem to need coaching.
My work at HOV:
The smile I bring to faces is the best part…..some of the friends I visit may not speak much, but they always smile at me. And sometimes they like to give me treats that I really like……mom uses the good ones on our visits (not the dry, low-calorie cookies I get at home). Have you seen my fine-looking, 10-pound little dog dude body? It's always about the smiles…..I love to give out smiles!!
Justice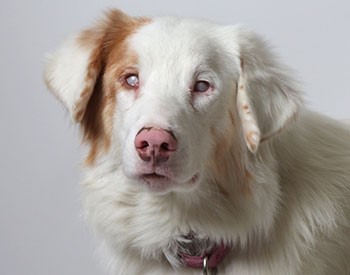 Breed:
Australian Shepherd
My Human Partner:
Shawn Walker
I've been an HOV Volunteer since:
2021
My interests, hobbies & talents:
I am a rescued double merle Australian Shepherd who has been deaf and blind since birth. I love meeting new people and showing that no matter our limitations, we all see and hear with our hearts. In addition to my therapy work, I enjoy going to the farmers market, hiking, napping, interrupting my dad's many Zoom work calls, and playing with my brother.
My work at HOV:
It is such an honor to spend time with clients and their families. Sometimes our visits involve lots of pets or belly rubs. Other times we just sit peacefully and just enjoy spending time together in the same space. Since I am deaf and blind, new sights and sounds do not interrupt our visits. 
Mac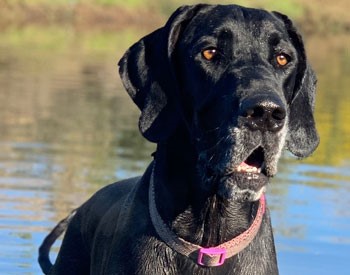 Breed:
Great Dane
My Human Partner:
Chas Quinn
I've been an HOV Volunteer since:
2020
My interests, hobbies & talents:
Since being re-homed a year ago, I have made myself quite at home. I always have a toy in my mouth and will find my precious Marmaduke (minus the ears) anywhere my humans hide it. I love lounging on the couch, playing with my Husky sister, watching the cats, soft-mouthing the faces of those I love and going for long walks in the riverbed. I can always be found inches away from the family members, if not on their laps or leaning on them (a neighbor suggests my name be changed to Eileen).
My work at HOV:
Visiting for HOV has been an honor and falls right in my wheelhouse of wanting to give and get love 24/7. Given my size (a mere 120 pounds and 34 inches tall at my shoulders), people don't even need to bend over to connect with my eyes or pet me. I have enjoyed sharing my love with those who really need it. Given my silly personality, hopefully I provide a moment or two of levity. My HOV job has also been most beneficial for me to become more confident and comfortable with the car and new spaces. Win, win! Love my job!
Poppy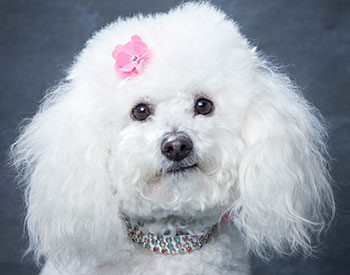 Breed:
MaltiPoo
My Human Partner:
Rachel Freed
I've been an HOV Volunteer since:
2019
My interests, hobbies & talents:
My favorite thing to do is cuddle. I can get comfortable just about anywhere, with anyone. I also just love treats and will start doing tricks as soon as I see or smell them. 
My work at HOV:
I must admit it—as much as my work is all about the clients and their families, I just love all the attention I get on visits. The rewards are THE best. Everywhere I go people always comment on how soft my hair is and they love the pretty bows I wear. (Thanks, mom, for taking such good care of me and my hairdo.) After I briefly sniff out the surroundings where I'm visiting, I quickly settle in and find a cozy spot to sit and be pet. Ahhh….see what I mean? The best!
Max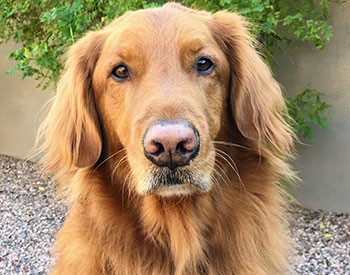 Breed:
Golden Retriever
My Human Partner:
Cindy Nelson
I've been an HOV Volunteer since:
2019
My interests, hobbies & talents:
I absolutely LOVE swimming, but some of my other faves are hiking in the mountains with my humans, eating, going for walks around my neighborhood, eating again, riding in the car, playing chasing around the house with my brother Baldwin (who happens to be a cat). He likes to chase me when I run around with a stuffed animal in my mouth. Did I mention eating? I'm a Golden Retriever, so I'm kind of a foodie, particularly when it comes to bananas and green beans…but NOT necessarily together. I have lots of friends in my neighborhood and I try to see each of them every day. As I've gotten older, I also like to take naps. At night, I sneak up and sleep on my mom and dad's bed, pushing them aside to make more room for myself, but they still love me!
My work at HOV:
On weekends or after a day of work at my mom's office visiting the children, I sure look forward to seeing all my Hospice of the Valley friends at the skilled nursing and memory care facilities. With gusto, I say, "Here I come, the Big Red Dog!" and they greet me with such big smiles. Making new friends is the best part of being with Hospice of the Valley's Pet Connections program!
Cassie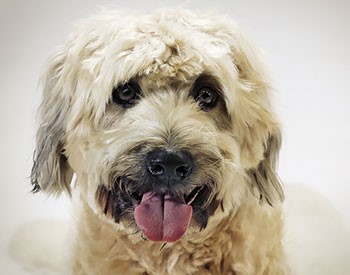 Breed:
Soft Coated Wheaten Terrier
My Human Partner:
Mary Anderson
I've been an HOV Volunteer since:
2010
My interests, hobbies & talents:
Let me see…. I love to eat, eat, snack, nibble on food and eat! OH, I also love food, food, breakfast, lunch, dinner, treats and eating. What can I say, even with all my eating, I am gifted with a high metabolism and petite physique!
My work at HOV:
Honestly, I refuse to even call my volunteering at Hospice of the Valley work. It's far too fun to possibly be work! I love visiting my special friends at Ryan House pediatrics and in group homes and skilled nursing facilities. I think my most favorite place is the memory unit where I've been visiting for years.
Noel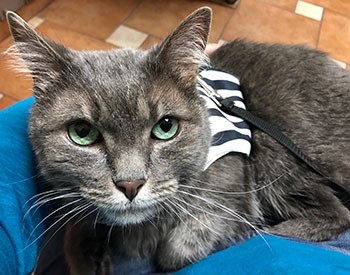 Breed:
Domestic medium-haired cat
My Human Partner:
Sam Glauser
I've been an HOV Volunteer since:
2016
My interests, hobbies & talents:
Hi! I'm Noel and I may look like a cat, but my mom thinks I have some dog in me, too. At home you'll find me on her lap, snuggling my dogs, or flying through the air to catch a feather toy or laser mouse. I love dogs of all sizes and teaching them to respect cats. I have trained lots of foster dogs and cats the rules of the house. 
My work at HOV:
My job with Hospice of the Valley is so much fun, it doesn't even feel like work!  I go anywhere near and far. Wherever there is an avid cat loving client missing feline love—private homes, group homes and nursing facilities. There's nothing I love more than a warm lap and I'm so happy meeting new friends. People don't expect cats to be so friendly and I love changing their impressions. I even let them rub my belly!
Scarlet Rose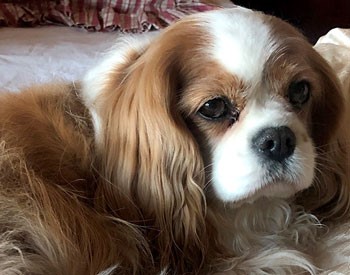 My Breed:
Cavalier King Charles Spaniel
My Human Partner:
Holly Bohling
I've been an HOV Volunteer since:
2019
My interests, hobbies and talents:
I am a retired champion show dog and former mama.  I still love to see a new puppy occasionally, but now that I am retired, I am always glad it belongs to someone else.   I love my morning walks and hunting in the backyard.  I am an excellent 'huntress!'  I like to help my dog mates find lizards, geckos and even mice.  We even once discovered a King snake!  It was a bit too big for me, so I left that one alone.  But I am proud to say that I have been able to capture many little critters in my time.  I am faster than the others in my pack and once I capture my prey, I really don't like to let it go.
I love people and meeting new humans.  I like it when they hold and pet me. I also love when someone plays the piano---- never fails to get me to fall fast asleep.  Who doesn't like a good nap?!
My work at HOV:
I love being a Hospice of the Valley Pet Connections therapy dog.  When I put on my blue HOV vest, I know exactly where we are going, and I am excited to be doing such important work. When we go on a visit, I trot right in the door with my best strut, knowing that I am doing good deeds that are most appreciated by all.   I am a mellow cavalier and sit quietly while someone greets and loves on me.  I love to sit on their lap, or just let them pet me if that is what they prefer.  Most people love to hold my ears since they are so smooth and silky.
Jaxon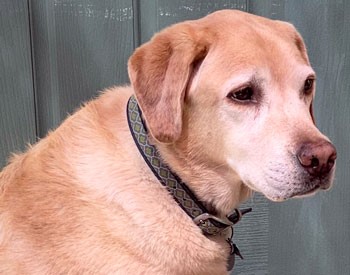 Breed:
Yellow Labrador Retriever
My Human Partner:
Lindsay Swingle
I've been an HOV Volunteer since:
2019
My interests, hobbies & talents:

I have a dual major: I am a certified Service Dog for my mom, Lindsay, and I am also a therapy dog. My job duties as a service dog include opening doors, helping Mom when she falls, and retrieving items for Mom. It may sound like a hard job, but it's easy for me. I love to wait and hear what I may do next to help my mom.
When I'm not doing either job, I enjoy visiting with neighbors, running in the forest, playing ball in the yard, and pulling ALL of my toys out of the toy box.
My work at HOV:
When I am doing my therapy duties, I especially enjoy working with Hospice of the Valley and visiting our patients in the group home where they live. In addition, I get to visit other friends in special-ed classrooms, a local hospital, and even a library where I simply sit back and listen to children read to me. This so-called working stuff is the life!
Monte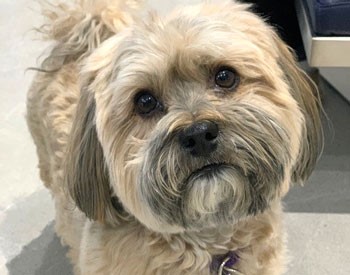 My Breed:
Havanese
My Human Partner:
Freida Sherman
I've been an HOV Volunteer since:
2018
My interests, hobbies and talents:
I love people. It's my greatest pleasure to say hello to each and every person when I go for a walk, shopping or visiting friends with my mom and dad. Getting a nice scratch behind the ears and a compliment on how cute I am makes me even happier. Sometimes I need to speak a little to alert my 2- legged friends that I want more snuggling, attention or a treat. My favorite activity when at home is to sit on the top of the sofa looking out the front window at the people walking down the street past my home. I'm a very brave guardian barking at all who pass by. Somehow my courage is diminished when I meet any dog who is bigger than me. My tricks include rolling over, dancing and crawling. Being rewarded with a dog biscuit makes my performance even better.
My work at HOV:
The job at Hospice of the Valley was made for me. All I do is make people smile and feel happier. So easy! The people I visit sometimes pet, scratch, chat or just gaze into my big, dark eyes. Sometimes I'm invited to sit on someone's lap or lie next to them on their bed. I visit people in private residences, nursing facilities and HOV units. My goal is to bring a little happiness into someone's day. Visiting HOV patients certainly makes me feel great too!