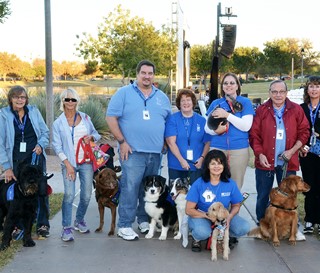 Our Pet Connections Teams
Papi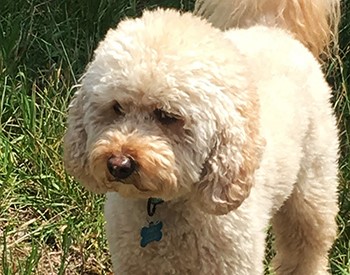 My Breed: 
Miniature Labradoodle
My Human Partner: 
Jean Nictakis
I've been an HOV Volunteer since:
2017
My interests, hobbies and talents: 
I was born in 2011. I love being with people young and old. Using my speed and agility, I love to chase the quail and bunnies in my yard. Though I've yet to catch one yet (darn!), it doesn't stop me from trying. My mom says I'm "acutely visual," whatever that means. All I know is that I enjoy watching TV, especially when animals appear. I love to socialize with them, though our communications is somewhat one-sided for some reason. I find it thrilling nonetheless.
My work at HOV: 
I have enjoyed visiting a patient for almost a year now. I like it when patients with dementia pet me and reminisce. I feel very important because I know that spending time with me may be the highlight of their day. I certainly enjoy the attention and the glorious petting, too!
Dexter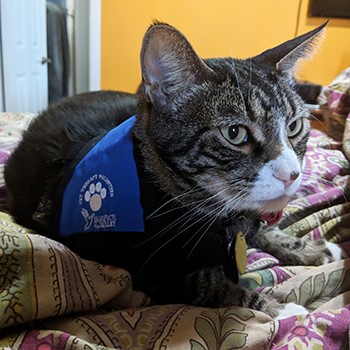 My Breed:
Domestic Shorthair
My Human Partner:
Alexis McKenzie
I've been an HOV volunteer since: 
February 2018
My interests, hobbies & talents: 
An ornithologist by trade, I spend much of my day watching birds I can only dream of catching. When not working or volunteering, I find amusement playing with my dog sisters and chasing my cat sister.
Why I enjoy our work at HOV: 
I really enjoy volunteering with HOV because I have an abundance of love to give and, I'm an amazingly docile cat. I also love napping in new places with new people.
Bravo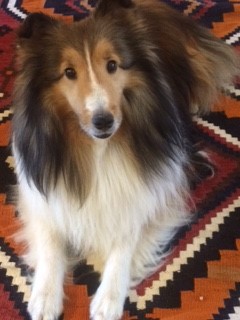 My Breed: 
Shetland Sheepdog, also known as a "Sheltie"
My Human Partner: 
Judy Mohraz
I've been an HOV Volunteer since: 
2017
My interests, hobbies and talents:
I'm a former show dog, but I don't like to brag. Life as a therapy dog is more to my liking. At home I like to herd my family and make sure they don't wander off. It is a big job but that's what sheepdogs do!
My work at HOV: 
I get excited when my HOV vest goes on. I visit HOV patients' homes and snuggle up to them and let them know I would like to be their friend. I stay very still and don't jump about. I'm also sure to pay special attention to loved ones who may be present.
Emily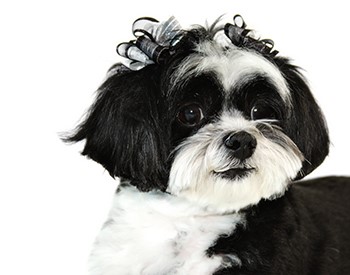 My Breed:
Shih Tzu
My Human Partner:
Pam Hile
I've been an HOV Volunteer since:
2011
My interests, hobbies and talents:
My main interest and talent is visiting with people. I love the attention! Everyone tells me I am so cute. I have dozens of toys that I offer my human companions to play with! I am quite the fashionista—I have the perfect outfit for every occasion, which brings smiles to those we visit. I love to go to the beauty shop every month where I get my hair cut, a bath and a peticure. I also get in the shower every weekend so I am clean for my weekly visits. Although I don't personally cook, I do have a refined palate—shrimp, lobster, and cheeses, but I also eat my dog food or I don't get a treat. I can be sassy at home, but I have excellent manners when we go on our visits to HOV patients.
My work at HOV:
I have been a pet volunteer with HOV since I was 2 years old. Shhh, don't tell anyone since I don't look my age, but I'm 8 years old now. I visit wherever Hospice of the Valley sends me; from private homes to nursing facilities, from group homes to memory units. I look forward to our weekly visits. I notice that even though some people are asleep or not feeling so great, when they see me, they pet me and almost always smile. My life is very exciting and joyful.
Moe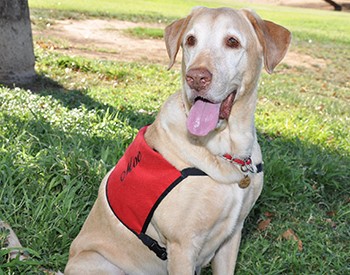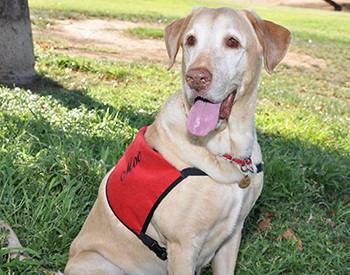 My Breed: 
Yellow lab mix
My Human Partner: 
Tod Yates
I've been an HOV Volunteer since: 
2016
My interests, hobbies and talents:
I adore my daily hikes with Daddy, sniffing every square inch of the earth. I must have a bit of hound in my lineage because by my behavior you'd think I was a bloodhound. I also am passionate about playing keep-away from Daddy with every bone and toy I have (he's so gullible). I'm not much of a hand-shaker, so Daddy taught me to fist bump, which is just cuter than all get out and makes me look really hip. My greatest talent though is tricking everyone in my orbit to rub my belly, and I'm a master at it.
My work at HOV:
I love to visit our HOV and other clients at two memory-care centers on the weekends. When Daddy grabs the vest, I can't help but do a little tap dance. I'm a little too big to be a lap dog, but when I plop my head down on a patient's lap and look up at them with my "gosh, I never get petted" eyes, they always fall for it. I seem to get my lovin' time again and again and again. It breaks my heart when a caregiver or family member says that their patient/loved-one never smiles, so I turn on the charm, hit the lap, and out comes the grins!
Ty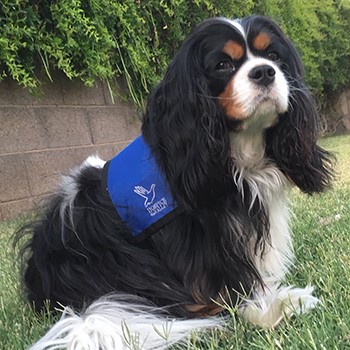 My Breed: 
Cavalier King Charles Spaniel

My Human Partner: 
Jane Conrow

I've been an HOV Volunteer since: 
2017

My interests, hobbies and talents:
Besides food, I love to learn new tricks and compete in obedience trials. There's nothing I like better than retrieving, running through tunnels and jumping over different obedience obstacles. My owner calls it training, but I call it fun—and if I do well, I just might get a cookie!

My work at HOV:
Being a Cavalier, I'm naturally very people-oriented. I rarely encounter a lap I don't like or a person that couldn't use a good doggie cuddle, so being on a pet therapy team for Hospice of the Valley is right up my alley. We get to meet so many wonderful people while doing our visits: patients, their family and friends, as well as facility staff. I love bringing smiles to people's faces. It never gets boring. Finally, between you and me, my owner is a little shy, so I break the ice for her and make it easier for her to meet and talk to new people.
Addy
My Breed: 
Black Lab
My Human Partner: 
Kimber Savage
I've been an HOV Volunteer since: 
2013
My interests, hobbies and talents: 
It depends what day you ask me what my favorite activity is. Some days doing cannonballs off the diving board into the pool or off the swim step into the lake is the best thing ever. But, if I'm hiking those beautiful trails, well, that's the most fun ever. Or, if you wanna throw a ball for me for seven hours straight, I'm definitely in. In fact, if you want to go for a run, or a drive, have a puppy play date, visit friends, or let me run beside you while you ride your bike or hey, even take a big fat nap, well, those are all the best days ever for sure! As you can see I'm an active, multi-faceted girl!
My work at HOV: 
Belonging to the noble and hardy breed of Labrador Retriever, I have a strong work ethic and take my job very seriously. Although I must admit that my willing-to-please personality makes it kind of easy. I'm super lucky to visit all the amazing kiddos at Ryan House. Some of them let me lay my head in their lap while others take me for walks in their wheelchairs down the halls or let me participate in their parades. Sometimes I even help out in the craft room where I get stickers put all over my body! Once in a while I'm privileged to help somebody super shy come out of their shell. I know I did good when it makes the human mommies get leaky eyes. Don't tell my boss, but I think I appreciate the love and joy that everyone at Ryan House—including the staff and other volunteers—gives me as much as the love and joy I hope I bring to everyone there.
I'Lea

My Breed:
I am a chow/golden retriever mix. I was rescued in August of 2007 from the local humane society when I was just two months old.
My Human Partner:
Aaron Low
I've been an HOV Volunteer since:
2012
My interests, hobbies and talents:
I have always been very laid back; I don't take life too seriously. The only time I actually move fast is to chase smaller animals as I am very inquisitive. However, I admittedly do get pretty bored when the critters stop running. I'm even more fascinated by larger animals such as cows and horses but then I get too nervous to get really close. I love my slow morning walks and the hours I get at the dog park every night. My greatest talent is my extreme laziness, to the point that one night a person at the dog park thought I wasn't actually alive! I'm very obedient with everything that is required for a registered Canine Good Citizen and Therapy Dog but other than that I'm pretty lackadaisical.
My work at HOV:
Hospice of the Valley is really the highlight of my life! It is time for just dad and me to go and help those in need. It is always such fun to see a whole room light up just because I walked into it. There have been some rough goodbyes but they are always replaced with a new hello. I was amazed to realize the change one pup could have and look forward to many more years of it.
Louie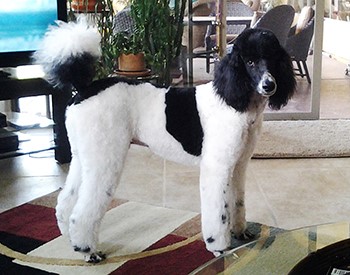 Therapist Name: 
Louie "Houdini" Long
My Breed: 
Standard Parti Poodle
My Human Partner: 
Virginia Ray Long
I've been an HOV Volunteer since: 
2016
My interests, hobbies and talents:
My human Mom gave me the nickname Houdini after my first month with her. I think it is because I broke out of my crate not once, but twice! She says I am a mischievous boy… don't know how she got that idea? I love to run and play and chase little animals. The fun is in the chase! I have my favorite toys that I play with at home and I hide them all around the house, so only I know where they are. My favorite thing is to be with my humans—we share lots of love.
My work at HOV: 
Though I only started visiting in 2016, my siblings went out visiting with Mom as far back as 2013. Being a therapy dog is very important to me. It gives me special time with my Mom. I get to ride in the car to group homes, skilled nursing facilities, memory units or wherever she takes me. I visit people with such beautiful smiles. They pat my head and rub my back and make me feel special. Inside I know they are the special ones. It makes me happy to visit them. Sometimes, on the way home, my human Mom may even open the windows in the car so I can feel the fresh wind on my face. Mmmm! Pure joy!
Koko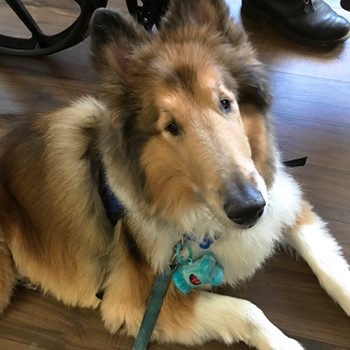 Breed:
Rough Collie
My Human Partner:
Beth Tokowitz
I've been an HOV volunteer since:
July 2015
My interests, hobbies & talents:
I love to receive tummy rubs and to have my hips and ears scratched! When you hit the right spot, you'll hear my "happy growls." I also love to go for walks and come home to chew on my rawhide bones. Of course, I love going for rides in the car. I don't do a lot of tricks, but there's one that I am really good at performing: since my bark is very loud, I have learned to use an "inside voice" when my mom and I are out visiting patients. That's important because I don't want to scare anyone.
Why I enjoy our work at HOV:
I learned all I know about how to be a great therapy dog from my mom and my big brother, Joe. I love being a therapy dog! Besides having one-on-one time with my mom, I get lots of attention and love from all of the people at the senior center we visit every week. I look forward to seeing all of my adopted friends because it makes me happy to make them happy. When my therapy vest comes out, I get so excited because I know it is visit day! Volunteering is the highlight of my week!
Leonard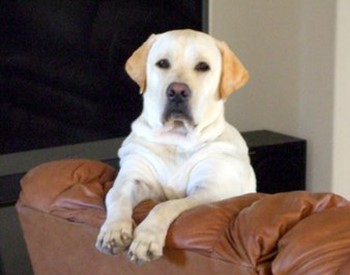 My Breed: 
Yellow Labrador Retriever
My Human Partner: 
Gary Artley
I've been an HOV Volunteer since: 
2007
My interests, hobbies and talents: 
Plain and simple, I just love visiting people, period! (Secretly I do love my dad best though.) When I'm not busy going around town working, I chew on my many, many toys. I'm old school however, so no squeaker toys for me, please. I pride myself at making all of my toys last forever; some are many years old.
My work at HOV: 
I visit patients, families, staff, and anyone who might want to pet me. I like to go anywhere to do my job—to homes, palliative care units and skilled nursing facilities.
Hercules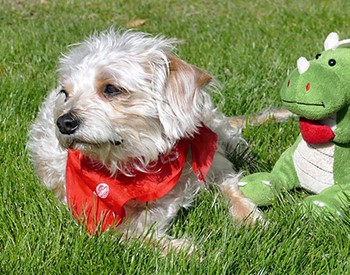 My Breed:
Terrier Mix
My Human Partner: 
Elizabeth Bayramoglu
I've been an HOV Volunteer since: 
2017
My interests, hobbies and talents:
My mom took me to my "fur-ever" home when I was three months old and I have been pampered ever since. It's the best. I get to take naps every afternoon; walks every day in the beautiful Arizona weather; trips in the car; and wrestle, jump and play with my human brother, which makes him laugh a lot! And, if I'm lucky, I even get a special small burger patty treat just for me at pet-friendly restaurants.

Mom also made me work hard at obedience school where I learned good manners and became a therapy dog volunteer. She even took me to agility classes which were the best—my very favorite!

My work at HOV: 
My special talent is making people smile. They tell me what a cute dog I am which makes me very happy. My HOV work is visiting patients who need cheering up, wherever they live, including private homes and group homes. I sit by their side or on their laps and let them pet me. People say I'm very soft and cuddly. They like that (and me too). I look forward to the visits every week, not to mention getting my favorite treats!