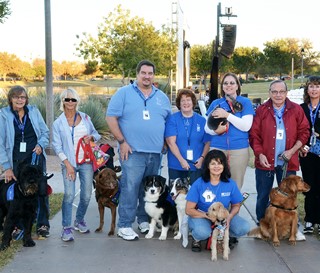 Our Pet Connections Teams
Monte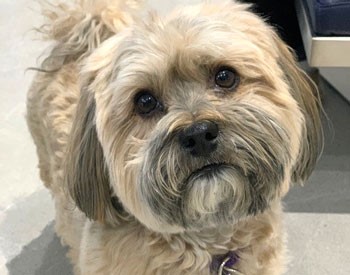 My Breed:
Havanese
My Human Partner:
Freida Sherman
I've been an HOV Volunteer since:
2018
My interests, hobbies and talents:
I love people. It's my greatest pleasure to say hello to each and every person when I go for a walk, shopping or visiting friends with my mom and dad. Getting a nice scratch behind the ears and a compliment on how cute I am makes me even happier. Sometimes I need to speak a little to alert my 2- legged friends that I want more snuggling, attention or a treat. My favorite activity when at home is to sit on the top of the sofa looking out the front window at the people walking down the street past my home. I'm a very brave guardian barking at all who pass by. Somehow my courage is diminished when I meet any dog who is bigger than me. My tricks include rolling over, dancing and crawling. Being rewarded with a dog biscuit makes my performance even better.
My work at HOV:
The job at Hospice of the Valley was made for me. All I do is make people smile and feel happier. So easy! The people I visit sometimes pet, scratch, chat or just gaze into my big, dark eyes. Sometimes I'm invited to sit on someone's lap or lie next to them on their bed. I visit people in private residences, nursing facilities and HOV units. My goal is to bring a little happiness into someone's day. Visiting HOV patients certainly makes me feel great too!
Luke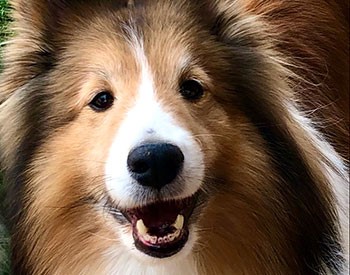 Breed:
Shetland Sheepdog (Sheltie)
My Human Partner:
Mary Deming
I've been an HOV Volunteer since:
October 2017
My interests, hobbies & talents:
My very favorite activity is catching/fetching a ball for my mom, Mary! Going on walks is another favorite, of course. Mom got me my own doggie treadmill to use in the summertime when it gets too hot for me outside. I love running on that treadmill! Another thing I absolutely enjoy is following my mom everywhere around the house...all the time. I'm also a retired champion show dog. My full name is Ch. Horizon Mighty Skywalker, but everyone calls me Luke or Lukey. Oh! I was really good at an obstacle course thing! They called it "agility," and I was given some pretty ribbons for doing it! My previous mom did the showing and agility with me, but I have to say that since Mary got me at age 5, my true calling has been working as a pet therapy dog with Hospice of the Valley.
My work at HOV:
I absolutely love to visit hospice patients at The Renaissance Assisted Living facility! I can sense and feel that the patients I visit really love me. We seem to have a connection. My mom tells me these are spiritual experiences for us because there's so much love and connection going on. I agree! Sometimes, the staff at the facility give me treats, hugs and an occasional kiss on my head; oh, how special that makes me feel! My life and my mom's have been touched through every single person we've met at The Renaissance and in the past, a particular group home and a private home. I'm honored and privileged to be doing this special kind of visiting!
Leo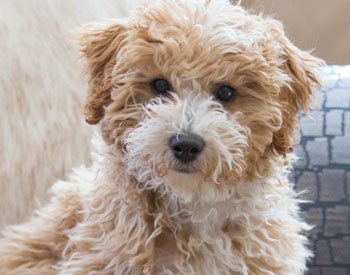 My Breed:
Bichon Poo
My Human Partner:
Lynda Free
I've been an HOV Volunteer since:
August 2019
My interests, hobbies and talents:
I love long walks, my canine girlfriend (Winnie), playing with my toys and my therapy work, including elementary school kids in their classroom. I think it helps me more than them because it is so much fun. I may be pint-sized, but I even do tricks — my new favorite is to spin around and around!
My work at HOV:
I have the pleasure of visiting one HOV client regularly. Even though I'm relatively new to visiting, my lady immediately lights up when she sees me, which makes my tail wag. I just don't understand why they call this work??? Between us, it sure seems like lots of pampering for me. After all, I just sit there and get attention, petting and hearing all the nice "oohhs" and "aahs."
Hope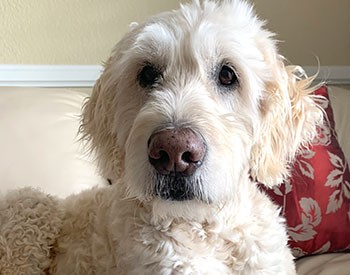 Breed:
Golden Doodle
My Human Partner:
Pam Reinke
I've been an HOV Volunteer since:
July 2008
My interests, hobbies & talents:
My interests, hobbies & talents: I just LOVE to swim! It helps keep me healthy. I also enjoy showing my younger sister, Promise, all the skills I know. I don't get why she doesn't like to retrieve as much as me though. She must have too much poodle in her doodle. I'm also an actress in case you didn't know and I've performed in 75 shows of "Annie" as Sandy the dog. I enjoy all children so much because of this experience. They tell me it feels like they are "petting a cloud" when they stroke my soft fur, which makes me love them even more. I also am a certified crisis response dog and I look forward to going on special trips with my Mom to help those who experience profound loss in disasters. These badly hurting people identify strongly with me because I survived losing a leg in an accident in 2014 and have done everything I ever did before the accident.
My work at HOV:
Why I enjoy our work at HOV:  I visit Lund Home PCU every two weeks. I really like bringing smiles to the patients and their families, even if it's only for a moment. It helps break up their sadness. I know this, because I can smell their feelings change when they pet me. The staff there are just wonderful and they have special treats hidden in one of the cupboards that I think they keep just for me! They tell me I'm their favorite, but I bet they tell that to all the therapy dogs who visit there! I mean, after all, these two-legged people have the hugest amount of love in their hearts that I've ever smelled in my life!
Rocky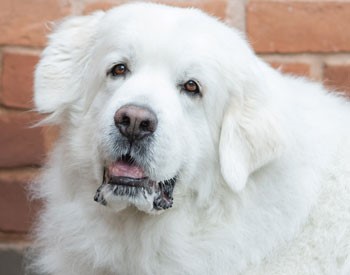 My Breed:
Great Pyrenees
My Human Partner:
Nancy Davis
I've been an HOV Volunteer since:
2014
My interests, hobbies and talents:
While I may not have a large repertoire of tricks, I make up for it by being big, soft and cuddly! I can leap and twirl high off the ground, but I limit this, since it worries Mom. I love playing "keep away" with my bone and rolling with my nose to the ground in my grassy backyard. I do not get up on any furniture except mycouch. One of my favorite times, besides mealtime, is couch time with Mom. That's when I feel king of the hill.
I love the smell of babies' faces. I get so close that my whiskers touch and I breathe it in. I would never dream of licking or jumping on anyone, especially these little humans. I enjoy getting into barking contests with the neighbor dogs, but since Mom doesn't seem to like it, I cut it short and go inside to resist the temptation (but it really is fun!). I love long walks in nature, car rides and to guard our home. Mom tells me that's my most important job when she leaves. Above all, however, I mostly love my work with Mom.
My work at HOV:
My "work" with Mom makes me feel important. At first, I had to get used to unfamiliar smells of facilities, medicines and aging. This took a little adjusting at first, but then I saw how much a difference my presence made. Even if a human cannot reach out to touch me, I love how their faces light up seeing me. Often my clients have their pack there (apparently humans call this family). I can feel their concern for their loved one as I approach them, I often hear another in the pack exclaim, "Look how he knows which one to go to!" At the facility where we visit regularly, I get to be the superstar! EVERYONE wants to see me, pet me and talk about me. I can see all the smiles and feel the joy I bring, and it puffs me up for the whole day. I love the quality time we spend connecting with certain folks (Mom gets to decide who). OK, I admit, at times I get so relaxed being petted that I fall asleep! I hear people asking the same questions about me again and again, but I never tire hearing Mom talk about me. Nor does she tire talking about ME!
Oreo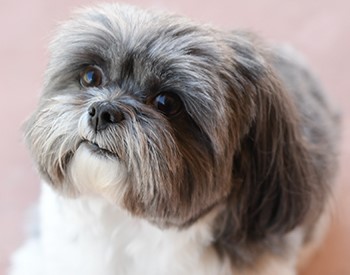 Breed:
Shorkie, a cross between a Shi Tzu and a Yorkie
My Human Partner:
Jeannie Litwin
I've been an HOV Volunteer since:
2016
My interests, hobbies & talents:
My main interest is going with my mom and visiting with people. It's great, especially since it's also the one time I get Mom all to myself, without my sisters! Not that I don't love my sisters, but it's fun to pretend to be an only child sometimes.
My favorite toys are my black bear and my ball. I know where my special ball is at all times. Believe it or not, I love to go camping. I also enjoy my walks and playing with one of my sisters, Snickers. I can sit up and beg anywhere, shake hands, roll over and speak for what I want. I tell Dad when I'm ready for bed and I always want a bite of whatever yummy thing he is eating.
My work at HOV:
I have been a therapy dog for three years. I love my patients wherever my mom takes me to see them…and I go to a lot of facilities for Hospice of the Valley every week! They give me good rubs. It's enjoyable visiting with my people, since they are always happy to see me. I cuddle next to them or lay on their lap. I love making them happy, especially when I do my tricks for treats.
Sophie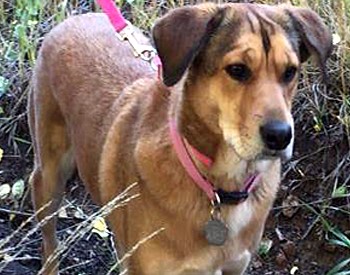 My Breed:
I am a Golden Retriever/Beagle/Shar-Pei with soft fur, I love my golden feathers and my Shar-Pei wrinkles.
My Human Partner:
Pam Weaver
I've been an HOV Volunteer since:
2018
My interests, hobbies and talents:
I am a registered AKC Canine Partner and have AKC Tricks Novice and Intermediate and Advanced Certificates. I enjoy going to classes with new friends, so they can learn too. I like to go to the farmers markets and greet as many kids as I see. Some people there like a good morning kiss and that makes them giggle.  Some instead prefer my  "high-five's or wave hello instead.  I'm happy either way since I'm such a people canine- the more the merrier.
My work at HOV:
My weekends are the best. My mom doesn't go to her work and instead we go to my work, or what she calls it when I get to put on my blue HOV vest. I just know that we ride in the car and I see people that smile for me, rub my ears and pet me.  I always feel happy, so I wag my tail for them and they smile even more!  Every now and then when one of my humans is not too happy, I sit by them and I wait patiently. It never fails, they will eventually pet me.  My mom and I visit Hospice of the Valley clients in their homes or nursing facilities. Doesn't matter to me as long as I get to see more people!
Mr. Bud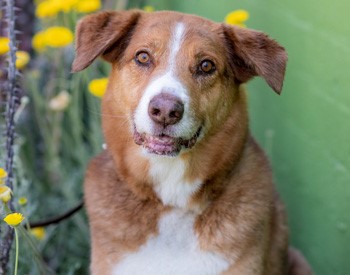 Breed:
Golden Retriever/Catahoula mix
My Human Partner:
Marcie Amory
I've been an HOV Volunteer since:
2012
My interests, hobbies & talents:
I'm a 100% lover of the outdoors, especially the beautiful desert at the ranch where I live with my humans and their equines.  I love those horses and being on the trail with them. I live up to my retriever side since I love to run and retrieve things. Most of all however, I'm always looking for one of the many rattlesnakes that share the ranch with us. I never fail to alert my humans when there's one nearby. I'm an equally alert watchdog, sure to let the family know whenever anyone drives onto ranch.
My work at HOV:
I visit at both Ryan House and Gardiner Home. When Mom puts the clients' hands on my head I always sit very still- I just love it. Everyone swears they see me smile when I'm working and it's true. If you don't believe me, just watch for and listen to my enthusiastic tail wagging. Mom calls me intense when I do that, but I call it fun!  This is the most rewarding volunteer work my mom and I have ever done.  I always say, nothing loves you more than a rescue dog- just ask my human family.
Shelby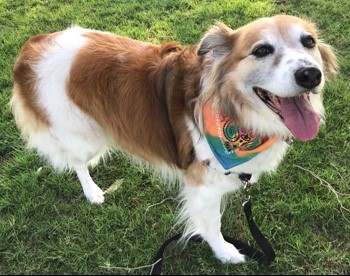 My Breed:
Australian Shepherd/Border Collie mix
My Human Partner:
Ardas Kaur Khalsa
I've been an HOV Volunteer since:
2018
My interests, hobbies and talents:
My passion is playing ball (any ball!) and jumping high to catch it. I also love to go for car rides, especially on day trips to the pine trees. When I get there, I especially love long walks and trail hikes in the mountains. I also love visits with friends.
My work at HOV:
I am so excited to be a therapy dog! I visit Hospice of the Valley clients in group homes and nursing facilities. I wait all week in anticipation for my "work" day. I love connecting with people and helping them feel good. Oh, and of course, I love to be petted and fussed over. People say I am intuitive, especially with my eye contact. That's a good thing, since I love all my human friends.
Maggie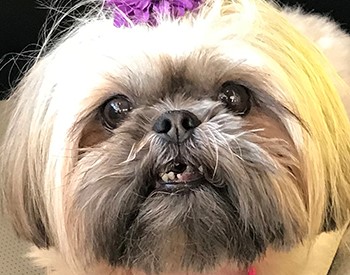 Breed:
Shih Tzu
My Human Partner:
Marlene Martinez
I've been an HOV Volunteer since:
July 2016
My interests, hobbies & talents:
My interests include going for an early morning walk with my mom, naps, treats and watching TV. My favorite TV show is "Property Brothers". My mom tells everyone my talents include being cute and cuddly. I also visit at Chandler Regional Medical Center and my talent there is knowing exactly which nurses have treats in their pockets or desk drawer just for me.
My work at HOV:
My specialty is visiting elderly people. They like sitting quietly and just petting me. We hear many interesting stories about the dogs they loved throughout their lifetime. My mom and I are always touched by how they remember special moments shared with their dog, even from many years ago. It makes us realize what an impact a little visit like ours can have on a patient's day. I also enjoy seeing the smiles on the wonderful HOV staff when we visit them because they are special too.
Katja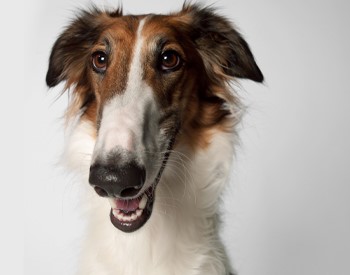 My Breed: 
Borzoi (Russian wolfhound)
My Human Partner: 
Elise Bartlett
I've been an HOV Volunteer since: 
2018
My interests, hobbies and talents: 
I love chasing my two Spanish greyhound canine sisters and showing off my speed and grace. When I was going through my puppy stage, I liked chewing hard back books and always picked the ones by Russian authors. Mom said I must have known they were my relatives!
My work at HOV: 
I get so excited when my mom gets out my HOV vest because it means I get to go bring cheer to our patients! (And I get to do something special while my sisters have to stay home!) Despite my size and long nose, I'm really a gentle girl and know how to be delicate and sensitive with patients. I'm at my best when I get to know someone over a few visits. 
Murphy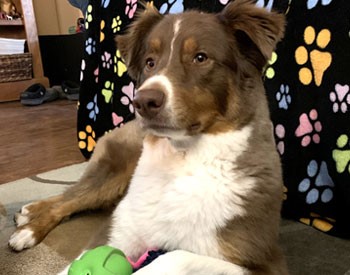 Breed:
Australian Shepherd
My Human Partner:
Dean McDonald
I've been an HOV Volunteer since:
2018
My interests, hobbies & talents:
I am a very happy and energetic boy that loves playing with my Aussie older brother, Harley. My other passions are eating bananas, racing around the backyard and enjoying a puppicino from Starbucks after my HOV visits.
My work at HOV:
On days that I go on visits, I start bugging my dad about an hour before we leave. I love visiting all of the assisted living facilities we're assigned to in Peoria. I know I get to see all of my buddies everywhere. There is no place I don't like to be petted, scratched or rubbed. When I visit, I sure want to love on everyone I see; it makes me smile when I see them as happy as I am. No matter how much time I spend with my HOV patients, I always make sure to save some love for the caregivers, family members and staff. If I'm lucky, my dad will even take me to meet new HOV volunteers and office staff.