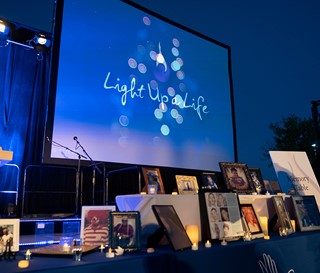 Light Up a Life

offers community remembrance

Leslie Gonzalez came to honor her 5-year-old son Jay Martinez, who was killed in a car accident six months ago—on Mother's Day.

Luis Ponce came—as he has for the last six years—to pay tribute to his father, Henry. "I look forward to it every year," he said. "It feels good to see his face on the screen."

Aaron Thomas came from Litchfield Park to stand with others in loss. His friend Cassy Mendez died of pancreatic cancer last summer at Sherman Home. "We're new at this," he said. "It's hard to accept that Cassy isn't here."

An estimated 1,500 people attended Hospice of the Valley's Light Up a Life on Nov. 18, 2018—the Sunday before Thanksgiving—at Steele Indian School Park. Perfect weather graced the night sky, where photos of more than 700 people who have died were projected on giant screens in the grassy amphitheater. Music set the mood for individuals and families to remember loved ones.

"We come together to shine a light and remember these individuals who are not physically here but are in our memories and in our hearts," said Debbie Shumway, executive director. "It also is an opportunity for us to say thanks to the community for letting us serve you."

New Song Center for Grieving Children held its own pre-event in collaboration with Ryan House and Phoenix Children's Hospital. Children and families ate dinner, played with bubbles, drew pictures of their families and created Christmas ornaments with plastic hearts and decorations. Music was provided by VYTeens of Valley Youth Theatre.