We
understand

your needs.

Hospice of the Valley has a dedicated Hispanic Outreach Team to provide culturally sensitive care to Spanish speaking patients and families. Our bilingual doctors, nurses and staff provide direct patient care and bereavement services. Feel free to give us a call on our Spanish phone line (602) 287-3998 if you have questions about our programs or services.

Tune into La Onda 1190AM radio, our "Community Dialogue" program, with community liaison Suzanne Sanchez. Learn about the compassionate care we bring to our patients in the comfort of home and the support we provide to families.
Culturally Sensitive Care for Hispanic Families
Our Hispanic Outreach Programs
Spanish Community Talks
Hispanic community liaisons give community talks to Hispanic patients and families and provide Spanish living wills and medical power of attorney forms.
To request a talk, contact Barbara Hawes at (602) 530-6900.
Spanish-Speaking Volunteers
Our Hispanic volunteer program matches monolingual and bilingual volunteers with Spanish-speaking patients to offer companionship and respite. 
Call Elizabeth Avina at (602) 636-2258 or email: eavina@hov.org.
Spanish Grief Support for Children
Bilingual volunteers also help provide grief support to children through New Song Center's Luz del Corazon.
To learn more, call The New Song Center for Grieving Children at (480) 951-8985.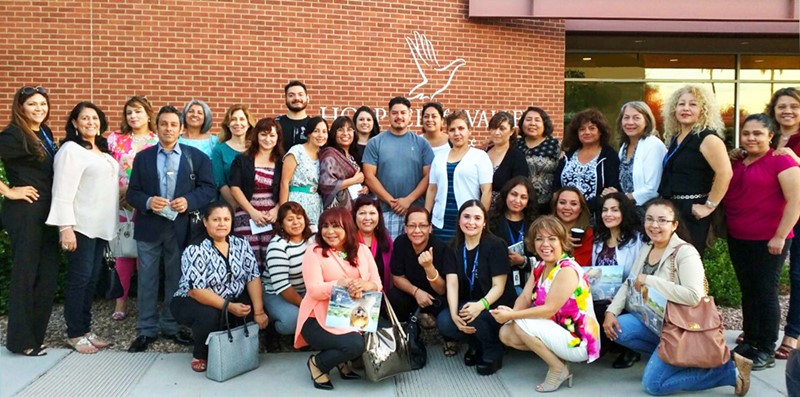 JOIN OUR HISPANIC VOLUNTEER PROGRAM
Our Spanish-speaking community volunteers give their time and talents to provide companionship and respite to our Hispanic patients and families. 
For more information, email Elizabeth Avina at eavina@hov.org.